2013 Flame of Hope Award
David B. Nelson, M.D., M.Sc. 
Professor and Chairman 
Department of Pediatrics  
We are honored to present the 2013 Flame of Hope Award to David B. Nelson, MD, MSc, Professor and Chairman of the Department of Pediatrics at MedStar Georgetown University Hospital (MGUH). Dr. Nelson has been the Chief of the Division of General Pediatrics at MedStar Georgetown University Hospital since 1990 and assumed the responsibilities of Chairman of the Department in 1998.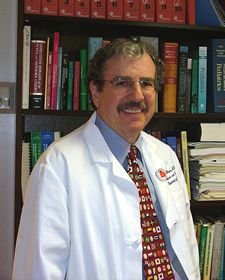 Dr. Nelson completed a residency in pediatrics at Children's Hospital of Pittsburgh and his training in epidemiology as an Epidemic Intelligence Service (EIS) officer at the Centers for Disease Control in Atlanta, Georgia, and as a Milbank fellow in London, England. Dr. Nelson has built an academic career centered on his expertise in clinical epidemiology and his interest in medical education. As an EIS Officer Dr. Nelson helped design and initiate the studies that help establish the link between Reye Syndrome and Aspirin. While at the Medical College of Wisconsin, Dr. Nelson was awarded the prestigious Milbank Fellowship Award to study clinical epidemiology in England. In London he earned a Masters degree in epidemiology from the London School of Hygiene and Tropical Medicine and at Charing Cross Hospital he researched the transmission Cytomegalovirus infections in hospitals and day care centers. Upon returning to the Medical College of Wisconsin (MCW), Dr. Nelson worked in the areas of nosocomial infections, lead poisoning and immunizations and served as clerkship and program director directing both the student and resident educational programs. Dr. Nelson was active clinically at MCW serving as director for the lead poisoning prevention program for the hospital. While in Wisconsin, Dr. Nelson served as a consultant to the Wisconsin Year 2000 public health initiative and served on the advisory committee of the Milwaukee Health Department.
Upon moving to the Department of Pediatrics at MGUH, Dr. Nelson assumed major administrative responsibilities in the Department. In addition to his position of Chief, Division of General Pediatrics, Dr. Nelson was also administrative head of the pediatric outpatient clinics and after one year was appointed Clerkship Director. Dr. Nelson helped establish the KIDS Mobile Medical Clinic and led the way for the growth and evolution of the Division of Community Pediatrics program at MedStar Georgetown which includes the Anacostia Wellness Center and the HOYA Clinic for the Homeless. In addition, he was responsible for the establishment of a fellowship program in community pediatrics. Dr. Nelson has continued to be active clinically and has pursued his interest in lead poisoning and immunizations.
Dr. Nelson has published over fifty papers in the medical literature and has been an invited speaker across the United States and abroad. In addition, he is the American Academy of Pediatrics (AAP) representative to the U.S. Preventative Services Task Force. Dr. Nelson has been a member of the AAP since 1980, the APA since 1979 and was elected to the American Pediatric Society in 2012.
In addition to his distinguished career in academic medicine, many of us here tonight are proud to know David as a friend. Those of us that do, know a dedicated and loving husband and father. Through him and his lovely wife Leslie, they have shared with us stories of Ben and Mara's childhood and have kept us abreast of their lives now with their own spouses and children. And now, as a doting grandfather, we hear tales of celebration and of impish acts by his grandson Ethan, and of his twin granddaughters, Eila and Madeline. We are proud to celebrate a man who, as a pediatrician, encourages and teaches his patients about the importance of focusing on family – and who in his own life, does just that.
For his lifelong commitment to the health and well-being of children and their families, for his dedication to educating and training future generations of physicians and for his loyalty to and leadership of the Department of Pediatrics for the last fifteen years, it is a privilege to present to Dr. David B. Nelson the 2013 Flame of Hope Award.