In the News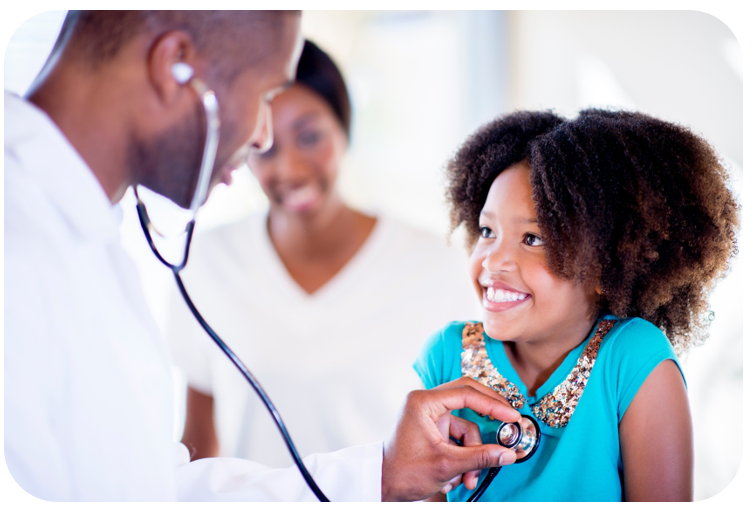 October 21, 2020
The 21st Annual Georgetown Pediatrics Gala featured heart-felt testimonials of hope and resilience in the face of immense challenges that families overcame this past year. Major efforts have been made to sustain and advance the work of Georgetown Pediatrics, and this year's virtual gala served as a way to thank the incredible support of our philanthropic partners, including Raytheon Technologies, The Dufour Collaborative, and Dan Mishra, as well as the Board of Georgetown Pediatrics, led by Chairman, Gary P. Fitzgerald. Over $350,000 in philanthropic support garnered from this gala will go towards supporting Georgetown Pediatrics patients, families, local schools, and neighborhoods across the District of Columbia–all of who benefit from its renowned programs.
Continued Traditions and Care During a Pandemic
Michael J. Donnelly, Georgetown Professor, and Chair of the Department of Pediatrics, opened the ceremony with an acknowledgement: "This year brought unique challenges, opportunities, and a wide spectrum of emotions to our world as we experienced this unprecedented public health crisis." Rising above these challenges, Georgetown Pediatrics remains committed to meeting the needs of pediatric patients through long-established expert care and adapting healthcare resources, including rapidly deploying new virtual health services. Michael Sachtleben, President of MedStar Georgetown University Hospital further emphasized the amazing adaptability of Georgetown Pediatrics, highlighting the work of Community Pediatrics and sharing the exciting, world-class Medical/Surgical Pavilion currently under construction
Claire Romansky's participation as the gala's emcee carried on the tradition of having a former patient guide attendee through the celebration. Over a decade and a half ago, she received urgent, life-saving treatment from the pediatrics team at Georgetown. Claire shared her personal story, "I would not be here today if it weren't for the extraordinary team of doctors and nurses of the Department of Pediatrics that saved my life sixteen years ago." Having graduated with a bachelor's in fine arts degree from Hofstra University, Claire is now living in Manhattan and pursuing her dream of becoming an actor.
Honorary Host
Among the gala's distinguished guests was His Excellency Meshal bin Hamad Al Thani, Ambassador of the State of Qatar to the United States. For the third year in a row, Ambassador Al Thani has been Honorary Gala Host, and the Embassy of the State of Qatar the Presenting Sponsor. Ambassador Al Thani and the State of Qatar continue to be steadfast supporters of Georgetown Pediatrics, allowing the department to advance health care for children. In his remarks, Ambassador Al Thani shared his appreciation and admiration of Georgetown Pediatrics: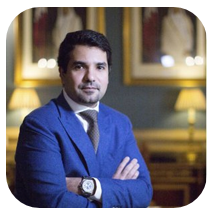 "It is a pleasure that so many people remain dedicated to supporting the good work of Georgetown Pediatrics and our unwavering and unending determination to ensure access to quality healthcare for kids, especially during these unprecedented times. Throughout this pandemic, Georgetown Pediatrics has continued to care for the children of our community, while also providing over 10,000 meals and 150 care packages to families in need. The expert doctors, nurses, and support staff who work here are among the true, everyday heroes who have sacrificed so much in silence for the service of others. I wanted to take a moment to say thank you for what you do. Georgetown Pediatrics' model of compassionate medicine, where patients and families are encouraged to take an active role in the healing process, is what inspires me to continue to stand behind this organization. The work they do is invaluable to our community and the lives of so many children and families in the district."
NICU Family Support Center and International Microbiome Program
With immense gratitude, Dr. Donnelly announced the Michael Smith Liss and Lauren Lamb and Lauren Elizabeth Lamb Neonatal Intensive Care Unit Family Support Center opened this past August at MedStar Georgetown. The generosity of Michael Smith Liss, Lauren Lamb, and Lauren Elizabeth Lamb has provided MedStar Georgetown NICU with a safe and soothing space for all members of the immediate family––moms, dads, and siblings––to experience a moment of respite while visiting their babies in the NICU. The opening of the NICU Family Support Center allows MedStar Georgetown to advance empathetic care to families during stressful and sensitive situations––providing a continuum of care to all families who enter the MedStar Georgetown NICU.
Dr. Donnelly also shared news on the addition of a new faculty member in the Department of Pediatrics, Dr. Pinaki Panigrahi, who brings clinical research interests in bacterial immunology and nutrition sciences. The addition of this renowned doctor will allow the Department of Pediatrics to advance research that investigates how bacteria in the gut affects the health of the whole individual, including how it can affect rates of illness such as sepsis in babies, or even cancer and obesity rates in adults. The addition of Dr. Panigrahi is thanks to the generosity of Dan Mishra, an incredible philanthropist and entrepreneur who recognizes the importance of food and nutrition and its impact on neonates and children. A grant from Mr. Mishra has enabled the Department of Pediatrics to launch an International Microbiome program at Georgetown University, drawing expertise from various departments and led by Dr. Panigrahi. These incredible philanthropic partners allow Georgetown Pediatrics to have comprehensive support to NICU families and advance innovative and life-saving research.
Panel Discussion: Coronavirus and Critical Pediatric Care
An exciting component of the 2020 Georgetown Pediatrics gala was the moderated panel discussion on community relief efforts during the COVID-19 pandemic. The panel discussion was moderated by MSNBC's Richard Lui and featured three Georgetown faculty members and clinicians in the MedStar Georgetown University Hospital Division of Community Pediatrics: Janine Rethy, MD, MPH, FAAP, Maria Aramburu de la Guardia, MD, MPH, FAAP, and Nichelle Johnson, MPH.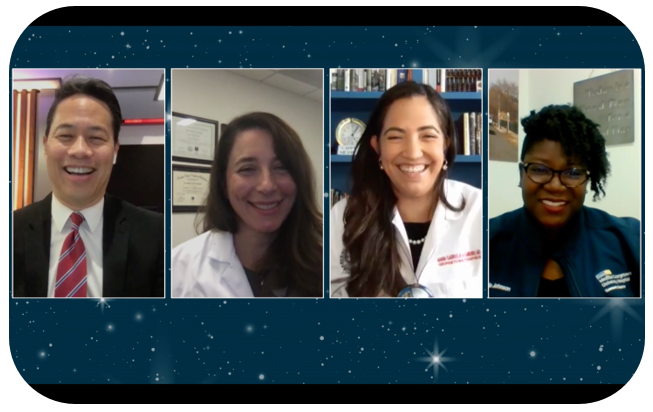 Dr. Janine A. Rethy, assistant professor of pediatrics at Georgetown, serves as Division Chief of Community Pediatrics, with her extensive experience implementing and evaluating best-practice solutions in community and preventive health. Throughout her career, she has been committed to decreasing health disparities, helping families and communities to become healthy and thrive, and teaching the next generation of community-oriented health care providers.
Dr. Maria Aramburu de la Guardia is the Medical Director of the School-Based Health Center at Roosevelt Senior High School in Washington, DC and is also an assistant professor of pediatrics at Georgeotwn and pediatrician at MedStar Georgetown University Hospital. In her role as Medical Director, Dr. Aramburu has established protocols and partnerships to better serve vulnerable populations including immigrant Latinx children and adolescents. Dr. Aramburu's clinical interests include mental health in teens, trauma informed care, obesity management, and motivational interviewing.
Nichelle Johnson is a Community Health Educator and serves as the Program Coordinator for the Division of Community Pediatrics Ronald McDonald House Charities Focused on FITNESS Program. Ms. Johnson is passionate about reducing health disparities and improving the wellbeing of children in under-resourced communities across the District.
Attendees were able to listen to these three incredible medical professionals discuss the impact that COVID-19 has had on the greater Washington region, and their department's response to continue serving children, adolescents, and families during the pandemic. Through their inspiring passion and commitment, these experts were able to reach the next level of care during this new normal. Dr. Rethy expressed her passion for Community Pediatrics, "Every child deserves the opportunity to be healthy and thrive."
In response to the pandemic, the Community Pediatrics team shifted to a family navigation approach to get patients and families the resources they needed when things began to shut down in March of this year. Using virtual platforms, the Community Pediatrics Ronald McDonald House Charities mobile clinics, and community partners, this department was able to quickly adapt to provide essential health services to the Washington, D.C. community.
For many families served by the Division of Community Pediatrics, food insecurity is a challenge that was further exacerbated by the pandemic. In response to the need for additional food and nutrition support, the Division of Community Pediatrics partnered with No Kid Hungry and the Power of 10 Initiative to develop an Emergency Food Relief program. Since this program began, over 10,000 meals have been delivered to families in need. Chef Eric Bruner-Yang, founder of Power of 10, shared his experience with helping these families: "Poverty charges interest. It compounds and compounds and gets harder and harder. It doesn't get easier and easier, unless there are people who are willing to provide a more human experience." This community partnership will continue thanks to the generosity of the J. Willard and Alice S. Marriott Foundation, allowing Georgetown Pediatrics to address social determinants of health and health inequities for vulnerable children and families in the District.
In partnership with the CVS Health Foundation, the Division of Community Pediatrics also organized the collection of personal hygiene items, cleaning products, healthy snacks, and grocery store gift cards and distributed 150 care packages to families in need. The support and commitment of partners such as the CVS Health Foundation, the Ronald McDonald House Charities of Greater Washington, DC, the J. Willard and Alice S. Marriott Foundation, the Power of 10 Initiative, and House of Ruth, has helped the Division of Community Pediatrics support children and families throughout the region during the pandemic.
MedStar Georgetown University Hospital Pediatrics and the Department of Pediatrics at Georgetown University School of Medicine Wishes to thank this year's sponsors and all others who helped make the gala a success. View the complete list of sponsors here. (new window)
---