2019 Flame of Hope Award
Geoff Tracy, Chef & Restaurateur
&
Norah O'Donnell, Co-host, CBS This Morning
---
Chef Geoff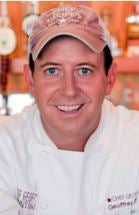 Geoff graduated from Georgetown University in 1995 with a degree in theology. He then went on to graduate first in his class at the Culinary Institute of America in Hyde Park, NY. Geoff opened Chef Geoff's in 2000 and Chef Geoff's Downtown in 2002. Both were opened before he reached the age of 30. In 2006 Geoff opened his third restaurant, LIA'S in Chevy Chase, MD. Geoff also operates Chef Geoff's Tysons in Vienna, VA and a Chef Geoff's at Dulles International Airport.
Geoff, along with a very talented team, oversees restaurant operations as well as managing the concept, menu development, marketing, finances, and growth at each of the restaurants. The restaurants serve hundreds of thousands of guests every year and employ more than 100 amazing people.
Geoff is also the co-author of the New York Times Best Seller, Baby Love. Baby Love teaches busy parents how to feed "Healthy, Easy, Delicious Meals for Your Baby and Toddler". The book is published by St. Martin's Press. A second book is in the works and will be published by Simon & Schuster.
As an active member of the Washington DC community, Geoff has served as chairman on the executive board of the Restaurant Association of Metropolitan Washington. Additionally, Chef Geoff's has contributed to hundreds of charities and local organizations in the form of silent auctions and fundraising. In 2014 Geoff cooked in the East Room of the White House as part of the First Lady's Let's Move initiative. Geoff is also a member of the Washington Baltimore chapter of the Young Presidents Organization.
In 2006 the National Restaurant Association awarded Chef Geoff's The Best Neighbor Award for its contributions to the community. In 2009 Geoff was awarded the Albert Uster "Chef of the Year Award". In 2010 Geoff was named one of the top 40 business people under the age of 40 by Washington Business Journal. In 2011 Chef Geoff's Tysons won the RAMMY award for "Hottest Restaurant Bar Scene". In 2009, 2011, 2017, and 2018, Lia's was selected as "Best Restaurant in Chevy Chase" by Bethesda Magazine in its annual Reader's Choice Awards. In 2012, the readers of Washingtonian Magazine selected Geoff as "Best Local Chef".
Geoff is extraordinarily fortunate to be married to the love of his life and CBS This Morning Host Norah O'Donnell. They have three children, Grace, Henry, and Riley, who have been roaming the restaurants for the last decade.
To read this biography and learn more about Chef Geoff visit www.chefgeoff.com
Norah O'Donnell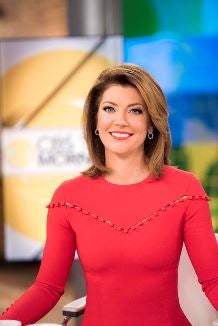 Emmy Award-winning journalist Norah O'Donnell is the co-host of "CBS This Morning."She also contributes to "60 Minutes." O'Donnell joined "CBS This Morning" in July 2012. Prior to that, she served as CBS News Chief White House Correspondent. As a journalist for more than two decades, she has covered six presidential elections and traveled around the globe to interview some of the world's most notable leaders, including six of the last seven U.S. presidents.
Since joining "CBS This Morning," O'Donnell has conducted numerous interviews with newsmakers including President Donald Trump, President Barack Obama, Vice President Mike Pence, and Speaker Paul Ryan. She has sat down with some of the world's most influential leaders including South Korean President Moon Jae-in, for his first interview in office, His Royal Highness Prince Harry of Wales, Nobel Peace Prize winner Malala Yousafzai, and the Dalai Lama. In March, O'Donnell spent a week reporting in Saudi Arabia where she interviewed Crown Prince Mohammed bin Salman. The conversation was his first and only American television interview. The last time a Saudi leader gave an interview to a U.S. network was in 2005.
O'Donnell won The Merriman Smith Memorial Award for excellence in presidential news coverage for her exclusive "60 Minutes" interview with Vice President Joe Biden and his wife, Dr. Jill Biden on his decision not to run for president in 2016. O'Donnell also landed exclusive interviews with House Majority Whip Steve Scalise for "60 Minutes" and an interview with NFL Commissioner Roger Goodell at the height of the league's domestic violence scandal. She covered the historic election of Pope Francis in Vatican City as well as his first Apostolic Voyage to the United States. She also reported from the scenes of Hurricane Harvey's devastation in Houston; the country's worst mass shooting in Las Vegas; the terror attack in San Bernardino, and the Boston Marathon bombing. She was also part of the CBS News team that received an Alfred I. DuPont Award for the network's coverage of the 2012 Newtown massacre.
O'Donnell has won two News Emmys for her reporting. In 2018 she was awarded in the Outstanding Investigative Report in a Newscast category for her report on sexual assaults at the United States Air Force Academy. She also won in 2009as part of NBC News' 2008 Election Night coverage team for the category Outstanding Live Coverage of a Breaking News Story – Long Form.
O'Donnell earned a Gracie Award and was named best national news on-air talent for the year 2018 and 2016. Her reporting for CBS This Morning on sexual assault at the Air Force Academy won an honorable mention in the Edgar A. Poe Award from the White House Correspondents' Association. She received the Edward R. Murrow Award for Best Newscast of 2017 and was named "Broadcaster of the Year" by the New York State Broadcasters Association in 2014.
To read the full biography please visit https://www.cbsnews.com/team/norah-odonnell/